POLAND has been a Nato member since 1999. The treaty was drawn up to act as a bulwark against Russian aggression. Article Five of the treaty states all members "will take the actions it deems necessary to assist the Ally attacked" including a military response. It has been triggered once — after the September 11 attack on the World Trade Centre in New York in 2001, which led to the invasion of Afghanistan.
NATO has called an emergency summit after a "Russian-made" missile crashed in Poland killing two in a "serious escalation" of the war in Ukraine.
The world nervously awaited last night after US intelligence initially reported the weapon had been fired by the Russians – an act that could have been seen as an attack on the West.
It was the first time a missile has strayed over the border from Ukraine since the invasion in February.
US officials however have now suggested the missile was fired by Ukrainian forces at an incoming Russian one amid the crushing salvo against Ukraines electrical infrastructure Tuesday.
Nato member Poland however has put its military on alert – with a deliberate, hostile attack on the country potentially triggering a collective military response by Nato.
Russia and the West remain at loggerheads over the war in Ukraine – with nations such as the US and UK offering weapons and support to Kyiv.
Moscow has always been furious about this – and so the spectre of Putin's invasion of Ukraine spilling into a wider war, or even World War 3, has cast a long shadow over Europe.
But in a major de-escalation in the early hours of this morning, US President Joe Biden said that it was "unlikely" that the missile was fired from Russia.
Biden had also called an emergency meeting of the G7 and Nato leaders.
The confusion likely stemmed from the fact that Ukraine still maintains stocks of former Soviet and Russian-made weapons – including the S-300 air-defense missile system.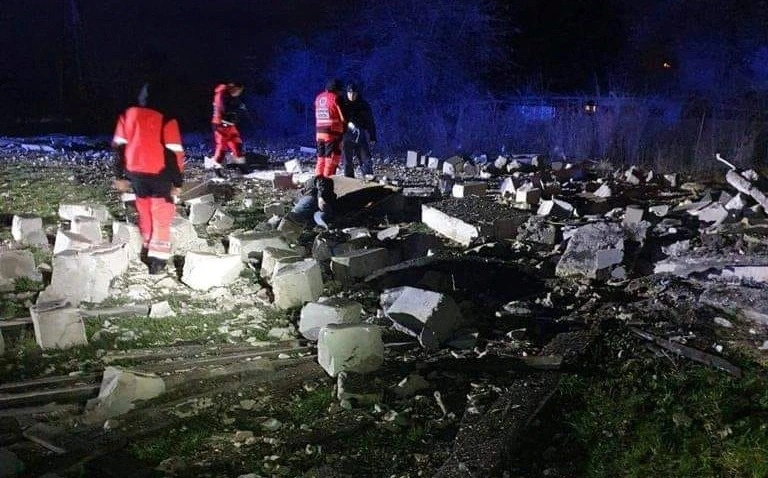 Poland is continuing to investigate the attack after the rocket struck a farm at 3.40pm local time on Tuesday in the village of Przewodów, four miles from the border with Ukraine.
Pictures from the scene showed a huge crater, an overturned trailer and a damaged tractor on the farmland were the missile struck.
G7 leaders met for crisis talks early on Wednesday to decide on a "collective response" to the deadly strike on a Nato ally's territory.
The allies condemned the blasts and said they were "ready to defend every inch of territory".
Poland's Prime Minister Mateusz Morawiecki put army units on "raised combat readiness" while police, border guards and special services are on "high alert" following the unprecedented blast.
Two fighter jets were also scrambled from the airport in Tomaszów Lubelski.
After initial reports blamed Russia, the Kremlin issued angry denials – instead blaming the West.
Ukraine's President Volodymyr Zelensky called it a "very significant escalation" that demands action.
He said in a TV address last night: "Today, something that we have been warning for a long time has happened.
"Terror is not limited to our state borders. Russian missiles hit Poland …on Nato territory.
"This is a Russian missile attack on collective security. It's only a matter of time before Russian terror goes further. We must act"
It said: "Statements by the Polish media and officials about the alleged fall of 'Russian' missiles in the area of ​​​​the settlement of Przewoduv is a deliberate provocation in order to escalate the situation.
"No strikes were made against targets near the Ukrainian-Polish state border by Russian means of destruction."
It came as Russia fired nearly 100 missiles on Ukraine in its biggest attack on energy and water plants so far, plunging ten million into darkness.
Meanwhile, Polish prime minister, M Morawiecki and President Andrzej Duda summoned a crisis meeting of ministers "as a matter of urgency".
"I appeal to all Poles to remain calm around this tragedy. Let's be prudent. Let's not let ourselves be manipulated. We must be guided by restraint and prudence," PM Morawiecki said.
Meanwhile, his presidential counterpart said there was no "conclusive evidence" of who fired the "Russian-made" missile.
President Duda said: "The North Atlantic Alliance is on alert. We have strengthened the readiness of the Polish armed forces, including the air defence. Our planes will be supported by allied planes. We act calmly and prudently."
Poland also said it was increasing the "combat readiness" of some units and has summoned the Russian ambassador to explain.
Mr Duda later said he had spoken to Nato general secretary Jens Stoltenberg and that Warsaw was "likely" to trigger Nato's Article 4 during an emergency meeting with the military alliance on Wednesday.
That is invoked when a member feels threatened by another country and triggers formal talks on how to counter the threat.
However, it does not automatically trigger a military response from allies.
UK officials said they urgently investigated the strike with allies.
The strike caused alarm among Nato members.
Rishi Sunak, who is currently at the G20 summit in Bali, tweeted: "I "have just spoken with the Foreign Secretary and Defence Secretary.
"We are urgently looking into reports of a missile strike in Poland and will support our allies as they establish what has happened.
"We are also coordinating with our international partners, including Nato."
Later he sat with Joe Biden and other leaders to discuss the developments in Europe.
The group condemned "barbaric" attacks by Russia on Ukrainian cities as they pledged support for Poland's investigation.
"We condemn the barbaric missile attacks that Russia perpetrated on Ukrainian cities and civilian infrastructure on Tuesday," the statement read.
"We discussed the explosion that took place in the eastern part of Poland near the border with Ukraine. We offer our full support for and assistance with Poland's ongoing investigation. We agree to remain in close touch to determine appropriate next steps as the investigation proceeds.
"We reaffirm our steadfast support for Ukraine and the Ukrainian people in the face of ongoing Russian aggression, as well as our continued readiness to hold Russia accountable for its brazen attacks on Ukrainian communities, even as the G20 meets to deal with the wider impacts of the war. We all express our condolences to the families of the victims in Poland and Ukraine."
In the US, president Biden said that it was "unlikely" that the missile was from Russia, he supports Poland's investigation.
"There is preliminary information that contests that," Biden said to reporters when asked if the missile had been fired from Russia.
"It is unlikely in the lines of the trajectory that it was fired from Russia, but we'll see."
It's unknown if the president suggested that the missile wasn't fired by Russia at all, however, Ukraine maintains stocks of former soviet and Russian-made weaponry.
Biden expressed his "deep condolences" to President Duda.
The Sun (UK)