The ongoing #EndSARS protest turned violent on Monday in Surulere area of Lagos as protesters stormed the Anti Kidnapping Unit of the Command. A police Inspector reportedly died from injuries sustained from attacks by the protesters. Two other policemen who were allegedly shot during the melee were said to be in critical condition at Lagos State Teaching Hospital.
Unconfirmed reports indicated that no less than three civilians were felled by police bullets while countless numbers were injured.
A video shared on social media, which Fedredsnews has not been able to authenticate, shows police officers beating a young lady while they dragged her into the police station.
The Spokesman for the Lagos State Police Command, SP Olumuyiwa Adejobi, who confirmed the death, explained that what happened:"
"Today, being October 12, 2020, at about 1 pm, some armed protesters laid siege on the Anti Kidnapping Unit Office of the command, broke into the cell and liberated two of the kidnap suspects, before they were tactically and professionally repelled.
"In the process, Inspr Ekei Joshua with AP No 175493, Inspr Peter Agabi with AP No 251138 and Insp Erinfolami Ayodeji with AP No 229241(now late) attached to the Anti Kidnapping Unit of Lagos State Command, located at Iyun Road, Surulere were shot and critically injured.
"They have been rushed to the Intensive Care Unit of the Lagos State University Teaching Hospital. In addition, the protesters fired and killed one Ikechukwu Ilohamauzo, 55 years, a driver of one Toyota Sienna bus, with registration number LSD 296 FX, who got stuck in the traffic caused by the blockage of the road by the violent protesters, in Surulere today.
"It is pertinent to state that the attacked police inspectors and Mr Ikechukwu Ilohamauzu were hit and injured by pellets reasonably fired from pump actions/locally-made guns. The corpses of the deceased have been deposited in a mortuary for autopsy.
"The Commissioner of Police,  Lagos State, CP Hakeem Odumosu, has urged protesters to be peaceful and avoid violent attacks on police personnel or any other security agents.  Also, he warned them not to harass innocent Lagosians by picketing them to forcefully join the protests and should avoid blocking access routes or roads for other Nigerians who are as well entitled to their fundamental human rights.
"He also appealed to parents and guardians to keep watch on their children and monitor their activities to avoid being mobilised and used for illegal activities in the state.
"However, four suspects have been arrested in connection with the incident. The Commissioner has ordered the Homicide section of the SCID, Yaba, Lagos to carry out a thorough investigation into the incident for further police actions", he said.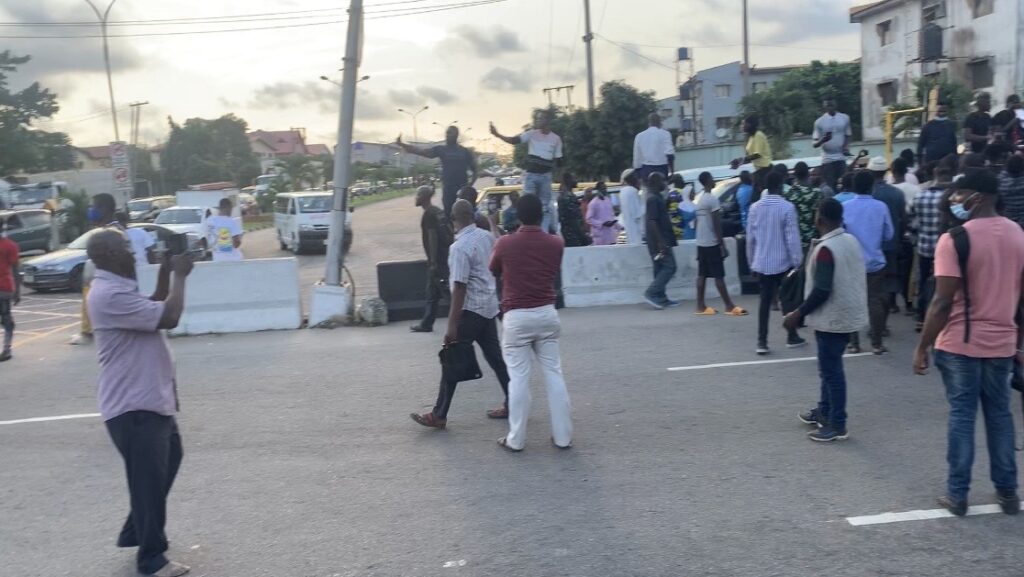 Meanwhile, Vice President Yemi Osinbajo, SAN has assured Nigerians that givernment is committed to ensuring that erring police officers are investigated and prosecuted.
The Vice President said this today in a chat with State House Correspondent in Abuja shortly after his meeting with President Muhammadu Buhari. According to him, the disbanding of the dreaded anti-robbery squad, SARS is the first step in the government's resolve to carry a major reform in the police force.
He said further: "Everyone is committed to seeing a Police Force and also Law Enforcement that will meet the expectations of the Nigerian people. The purpose of law enforcement, the purpose of policing, is for the safety of lives and livelihoods of Nigerians. So, we are all committed to that, and I think that everyone is committed, we are all very committed to it."
"the most important thing is that SARS has been disbanded and the IGP has committed to ensuring not only that it is disbanded but also that whatever takes its place has the full participation of civil society groups and all other stakeholders", he said