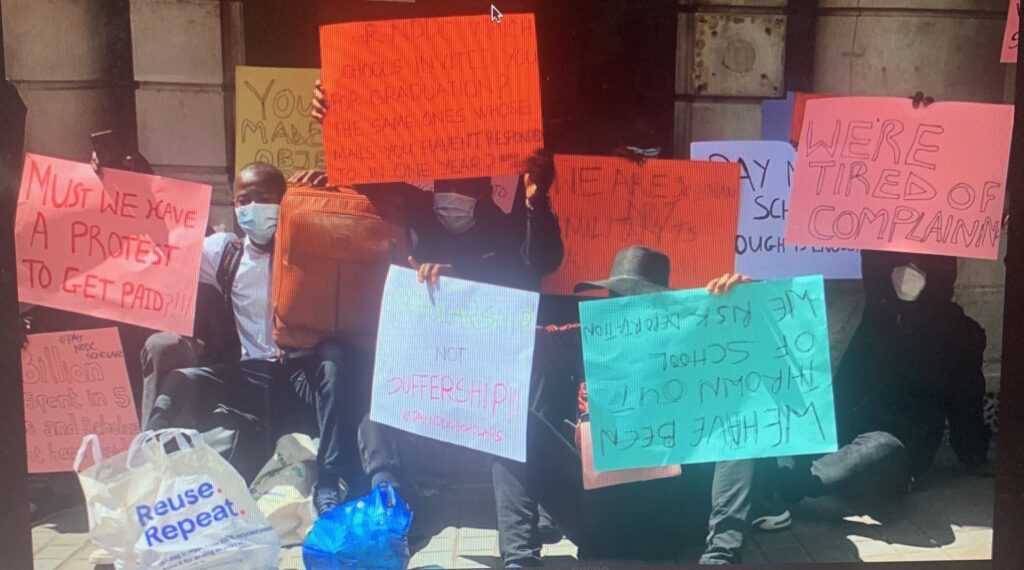 The recent protests by abandoned Niger Delta Development Commission (NDDC) Scholars at Nigeria High Commission office in London yesterday seemed to have paid off as President Muhammadu Buhari has ordered the embattled agency to immediately pay beneficiaries of its foreign scholarship.
Confirming this new development on Tuesday, NDDC Director of Corporate Affairs, Charles Odili disclosed that the president has directed Senator Godswill Akpabio, the Minister of Niger Delta Affairs to ensure that the payment is effected before the end of the week. He explained that the delay was not deliberate nor due to paucity of funds, but caused by the death of the Commission's Ag. Executive Director, Finance and Administration, Chief Ibanga Etang in may this year.
"Under the Commission's finance protocol, only the Executive Director (Finance) and the Executive Director (Projects) can sign for the release of funds from the Commission's domiciliary accounts with the Central Bank of Nigeria. With the death of Chief Etang, the remittance has to await the appointment of a new EDFA.
"Senator Akpabio, the Honourable Minister, said President Buhari who has been briefed on the protest by students at the Nigerian High Commission in London, has ordered that all stops be pulled to pay the students by the end of this week. We expect a new EDFA to be appointed this week. As soon as that is done, they would all be paid."
The students live-streamed their protest on their Twitter handle @2019Nddc on Monday. They complained that their school fees and maintenance funds had not been paid one year after they were awarded scholarships.
They displayed various placards reading: 'NDDC failed us', 'We have been thrown out of school…we risk deportation', 'Scholarship NOT Suffership' (sic), 'Must we have to protest to get paid?.
It would be recalled that the agency had been mired in allegations and counter-allegations of financial misdemeanour in recent time. The scandal came to a head last month the Ag. Managing Director of the commission, Prof. Daniel Pondei collapsed during the house committee public hearing on NDDC. He was responding to allegations of N1.5billion financial misappropriation when he suddenly collapsed and the hearing had to be postponed.