Agents of the Ogun State Ministry of Urban Development, Ijebu Ode office have demolished Datkem Plaza, a building owned by Olufunke Daniel, wife of Gbenga Daniel, former governor of the state. 
The demolition was carried out in the Ijebu Ode area of the state early Sunday morning for contravening the state's physical planning laws, according to the state government.
In a statement issued through Adeyinka Kotoye, her counsel, Olufunke expressed shock over the demolition of the building by the state government despite a notice from the court to halt the process.
"We were shocked and miffed that the Ogun State government ignored court papers served on its agents on Thursday, September 7, asking them to stop all actions on the building," the statement reads.
"This matter began when the Ogun State Planning and Development Authority sealed the building on August 1, without any prior notice. Interestingly, a quit notice was only served on August 31 by the same Planning and Development Authority asking the owner to vacate the premises within three days.
"Meanwhile, Datkem applied for the unsealing and regularization of the building on August 2, and paid the mandatory fee of N500,000 to the Ogun State government. We have evidence of this payment. However, we were shocked and astonished that the Ogun State government ignored the ongoing legal process and went ahead to demolish the complex in the early hours of Sunday. We want to believe the State Attorney General's advice was ignored on this matter."
Olufunke accused Dapo Abiodun, governor of Ogun, of "illegality" adding that despite suffering unimaginable and huge losses as a result of the demolition, she will continue to seek redress from court.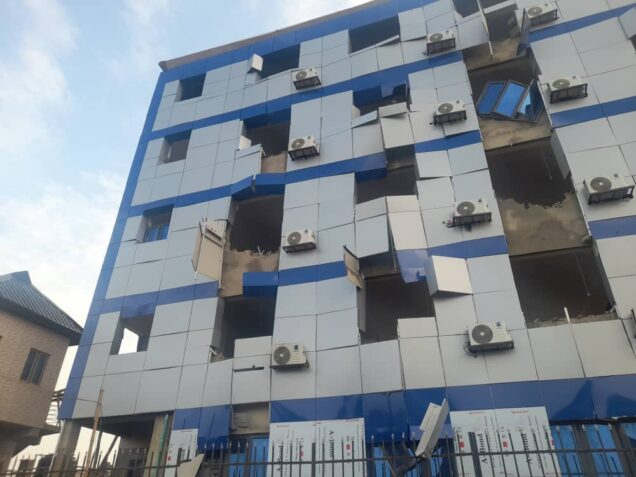 Meanwhile, Ogun state government has defended the demolition of the building, saying it is an illegal structure.
In a statement issued by Olayiwola Abiodun, permanent secretary of urban development ministry, the government said the building "contravened" the state's physical planning laws.
Abiodun said several efforts made by the state government to halt further development on the site were ignored.
"The Zonal Town Planning Office observed during routine monitoring that the construction on site did not conform with the plan granted as there was a deviation from the airspaces and setback," he said.
"In addition, the building had been modified and enlarged with an additional storey building at the back thereby becoming over density."
Abiodun said any illegal building constructed in any part of the state will be demolished to safeguard the lives of the people.