The Code of Conduct Bureau, CCB has requested the minister of state, Labour and Employment, Festus Keyamo, SAN, to appear before it on Friday, April 21, 2023 to substantiate corruption allegations he levelled against former vice president Atiku Abubakar. The invitation is aimed at laying the groundwork for commencement of investigations of the candidate of the Peoples Democratic Party, PDP over the alleged diversion of public funds while he was the vice president of Nigeria through a Special Purpose Vehicle (SPV).
In a letter dated March 28, 2023 and signed by the director, investigations, intelligence and monitoring, Sebastian Gwimi, Keyamo was asked to come along with Michael Achimugu to substantiate his allegations against the former vice president.
Recall that Keyamo had, in a petition filed in January, called for an investigation into the corruption allegations levelled against Atiku by a former aide, Michael Achimugu.
He thereafter gave the anti-graft agencies 72 hours to investigate, arrest and prosecute the PDP presidential candidate.
Mr Achimugu, who claimed to be a former aide of Atiku, in a series of social media posts, accused Atiku of using Special Purpose Vehicles (SPV) to commit financial fraud.
See the reaction of Festus Keyamo's aides below:
PRESS RELEASE BY FESTUS KEYAMO CHAMBERS CODE OF CONDUCT BUREAU INVITES KEYAMO, SET TO COMMENCE INVESTIGATION OF ATIKU ABUBAKAR OVER SPV SAGA The Code of Conduct Bureau is set to commence investigation of Atiku Abubakar over the diversion of public funds whilst he was Vice-President of Nigeria through Special Purpose Vehicles (SPV).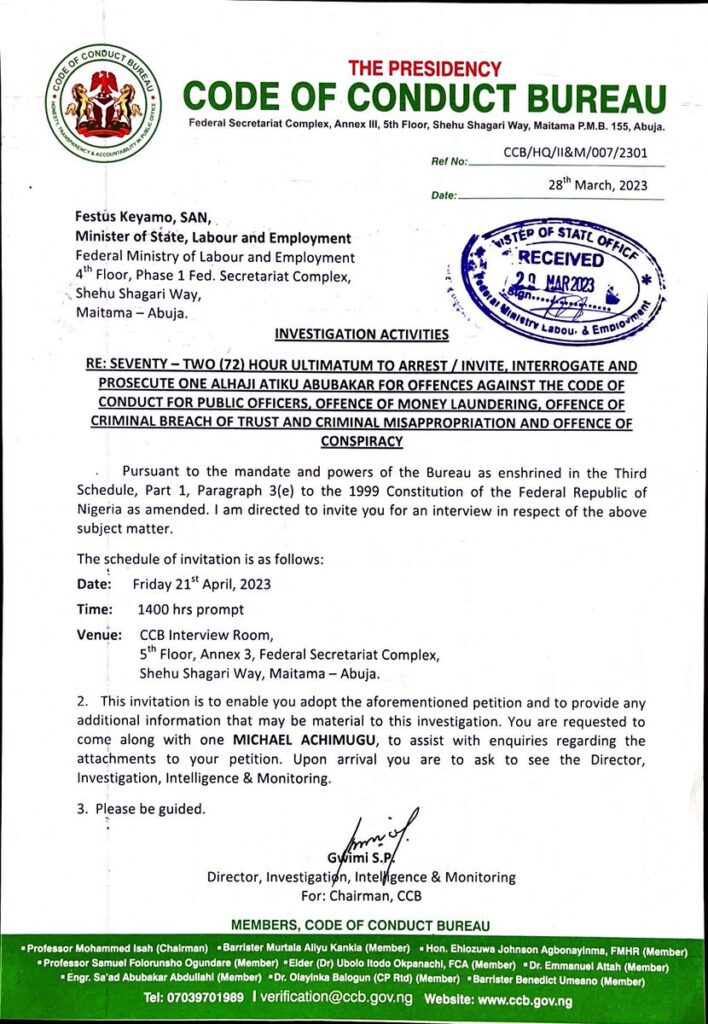 The Bureau has invited our client Mr. Festus Keyamo to come forward to adopt his petition and to help it to secure the presence of the whistleblower, Mr. Michael Achimugu to assist in the investigation.
See a copy of the letter below. Mr. Keyamo assures that the crusade for accountability in respect of this issue was not a campaign gimmick as he promises to follow it through to a logical conclusion, even after the victory of the President-Elect, ASIWAJU Bola Ahmed Tinubu.
Thank you. John Ainetor,
Asst. Head of Chambers, Festus Keyamo Chambers, Abuja office