Tiffany Trump, daughter of former United States President, Donald Trump, has married her Nigerian-Lebanese fiancé, Michael Boulos on Saturday, November 12, 2022, in Palm Beach, Florida.
29-year-old Tiffany is the daughter of Donald Trump and his ex-wife who is an actress, Marla Maples.
Tiffany announced their engagement on social media a day before Trump left office as US President in January 2021.
In the Instagram post, she said, " "It has been an honor to celebrate many milestones, historic occasions and create memories with my family here at the White House, none more special than my engagement to my amazing fiancé @MichaelZBoulos! Feeling blessed and excited for the next chapter!"
Boulous, a Lebanese-born business executive grew up in Nigeria where his family has some businesses.
He was born in Kfaraakka, a village in northern Lebanon, so he is of French and Lebanese descent.
He moved to Nigeria at a young age, and his family has a large number of companies active in more than 10 West African countries.
His father, Dr Massad Boulos, is in charge of the businesses, while his mother, Sarah Boulos, is the founder of the Society for the Performing Arts in Nigeria where she helps artists to realise their dreams.
Sarah Boulos always refers to Nigeria as her home after living in the country for over four years.
Michael graduated from the American International School of Lagos before he later moved to London where he obtained a Bachelor of Arts in Global Business Management from Regent's University London and a master's degree in Project Management, Finance, and Risk at City, University of London.
Born on October 13, 1993, in West Palm Beach, Florida two months after her parents got married, Tiffany is the fourth child of the former US President and his only child with his second wife, Marla Maples. She is a legal research assistant at Georgetown University Law center.
On ground to witness the impressive ceremony were Ivanka Trump along with her husband Jared Kushner and kids; Melania Trump; Tiffany's mother Marla Maples, and half-brother Eric Trump were among the many guests who enjoyed the lavish wedding festivities, as per Page Six.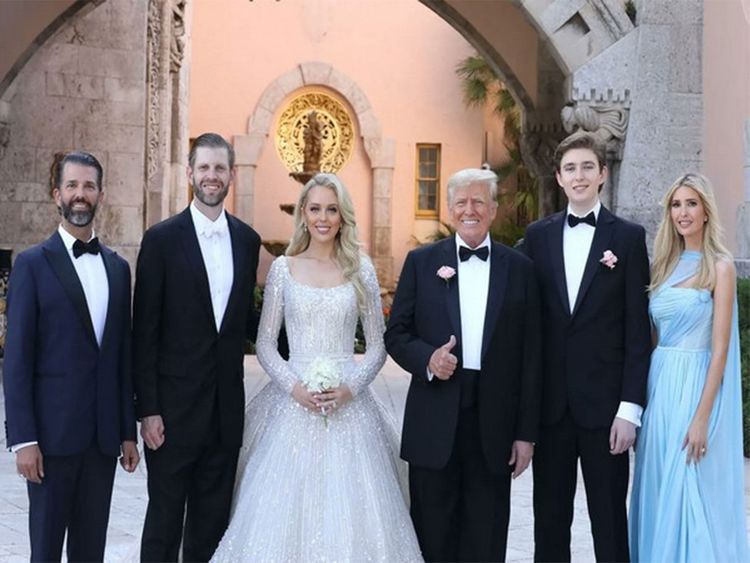 Although the wedding festivities went smoothly, the planning process was a bit worrying for Tiffany.
According to Page Six, just a few days ago, Tiffany was said to be "flipping out" and worried that Hurricane Nicole would ruin her big day, which is scheduled to take place at Mar-a-Lago on Saturday.
"Friday is supposed to be a welcome dinner and they aren't sure it's going to happen … Tiffany is flipping out," a source told Page Six on Wednesday.
Page Six reports that others had to change their RSVPs after the Palm Beach International Airport closed and cancelled all flights, despite the fact that some guests were already in town when the hurricane made landfall.
"Tiffany is still there. Some guests came in for the week, and they had all these things planned. It was going to be a whole over-the-top thing," the insider continued.
"They had to cancel events today and cancelled a golf outing for tomorrow. Everyone is stuck inside."
Fortunately, Tiffany and her fiance were able to obtain a marriage licence on Tuesday, just before the Palm Beach County Courthouse was compelled to close.
The happy couple was planning a "lavish" wedding with up to 500 guests, a source previously told Page Six.
"Tiffany has been waiting to plan a very big wedding," the insider shared. "Her fiance is from a very wealthy family, she is from a very wealthy family, and they want all their friends from around the world to be there."
"This is Tiffany's big moment, and it will be lavish. It is going to be a huge and beautiful affair," they added.