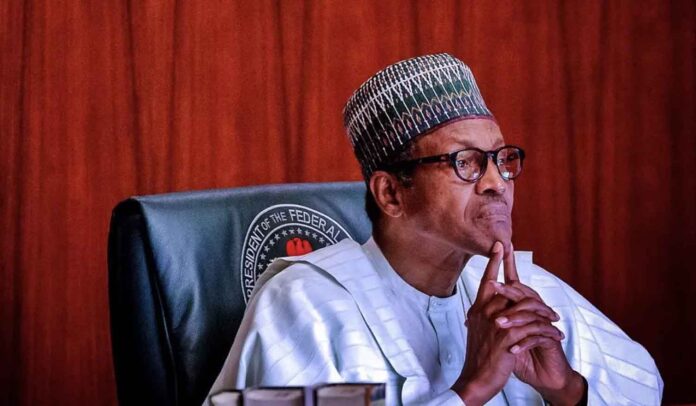 President Muhammadu Buhari, on Saturday, claimed that fleeing terrorists that were dislodged from their fortress in the North East were responsible for the orgy of violence, kidnapping and banditry in the southern part of the country.
The President said this on Saturday in a nationwide broadcast to mark the 2021 edition of Democracy Day, which was instituted in honour of the late Moshood Abiola, the winner of the June 12, 1993 election.
He said: "When you elected me as your President in 2015, you did so knowing that I will put an end to the growing insecurity, especially the insurgency in the North East, but the unintended consequences of our scattering them in the North East pushed them further in-country which is what we are now facing and dealing with.
"We will, by the Grace of God put an end to these challenges too. Unfortunately, like in most conflict situations, some Nigerian criminals are taking undue advantage of a difficult situation and profiteering therefrom with the misguided belief that adherence to the democratic norms handicaps this administration from frontally and decisively tackling them.
"We are already addressing these obstacles and we will soon bring some of these culprits to justice. As with all democracies we will always be going through improvement processes in our desire to reach the goal of a mature democracy, a strong, evolved and integrated nation state to be reckoned with globally.
"In the last two years, we have witnessed and overcome a good number of testy challenges that would have destroyed other nations especially relating to our collective security. The indefatigable 'can do' spirit of the Nigerian has sustained us and would keep pushing us to put these challenges behind us.
"Unfortunately, some of these challenges came in the shape of violent outrages leading to the loss of lives of many of our dear compatriots and the destruction of some of our infrastructure, including those devoted to improving our democratic processes.
"Once again, I want to render my sincere and heartfelt condolences to the families and friends of our gallant servicemen and women who lost their lives in the line of duty and as a sacrifice to keep Nigeria safe."