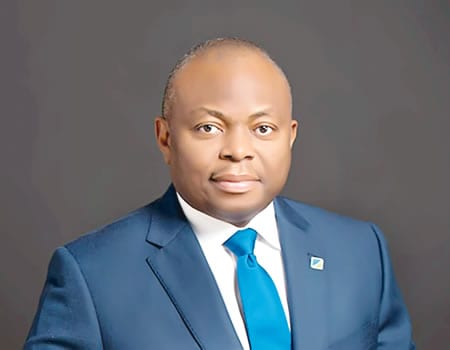 The Chief Operations Officer of Fidelity Bank Plc, Gbolahan Joshua has announced plans by the bank to issue up to N50 billion in local bonds by the fourth quarter to refinance existing debt as yields fall.
Reports by Reuters quoted Joshua to have said this during an analysts' call in Lagos.
High yields for Bond have declined on the local debt market after the crash in the price of crude oil occasioned by the outbreak of the coronavirus pandemic which caused foreign investors to dump naira assets, leaving money markets awash with liquidity.
The new issue would be made to redeem an existing N30 billion bond issued at 16.48 per cent.
Debt market yields have dropped from a high of 18 per cent three years ago. Yields on the one-year treasury bills are quoted under five per cent.
The bank's expectation is to see a 15 per cent drop in profit this year compared with 2019, citing the impact of the coronavirus pandemic.
It said profit before tax had increased by 21.9 per cent to N12 billion in the half year.

Fidelity Bank's income declined in the second quarter due to a downward review of lending rates on loans backed by development finance institutions and an economic slowdown.

Commenting on the results released at the weekend, Fidelity Bank CEO, Nnamdi Okonkwo, had said the performance for the period, reflects the resilience of the bank's business model.
"Due to the global and domestic headwinds witnessed in H1 2020, we proactively increased our cost of risk as the impact of the pandemic slowed down economic activities whilst adapting our business model to the new risks and opportunities of the new normal" he stated.
According to him, Fidelity Bank, re-stated its first half 2019 figures from N15.1 billion to N9.8 billion to reflect the impact of International Financial Reporting Interpretations Committee (IFRIC) 21- Levies, which was adopted for the first time on the first half 2020 financials.
"The key impact of IFRIC 21 was that our 2020 full year, the Asset Management Corporation of Nigeria (AMCON) cost was recognised 100 per cent in our first half 2020 accounts rather than been amortised over 12 months as was done previously on our financials," Fidelity Bank CEO said.
He further revealed that, without implementing IFRIC 21, profit for the period would have been N17.9 billion compared to the N15.1 billion reported in the comparable period in 2019.
Fidelity Bank has been implementing a digital-led retail strategy and digital banking gained further traction during the period with 87.3 per cent of the bank's customers now transacting on digital platforms.
Savings deposits in first half 2020 increased by 32.2 per cent to N363.9 billion with the bank on course to achieving the seventh consecutive year of double-digit growth in savings. Its savings deposits accounted for 49.1 per cent of total growth in customer deposits and now represents 25.9 per cent of total deposits, compared to 22.5 per cent in 2019 full year.